Attorney of the Morning:
Eviction Defense at Buffalo City Court
The Volunteer Lawyers Project defends low-income tenants in Landlord/Tenant proceedings through our Attorney of the Morning Program (AOM). This highly successful program, replicated across the country, helps vulnerable families in our community avoid homelessness. 
---
If you are facing an eviction in the City of Buffalo, please show up at Court (Part 17 Buffalo City Court – 50 Delaware Ave.) on your scheduled date, sign in with the clerk and you will be asked if you would like to speak to a Volunteer Attorney.
VLP participates in Attorney of the Morning of Tuesday and Thursday morning only. Other legal services agencies provide free legal services on Mondays, Wednesdays and Fridays. 
We have coordinators on-site to do client intake/screenings and to assist you. VLP paralegals or interns conduct client intake for income eligibility and clients consult with a VLP attorney who will assist them in negotiating a settlement with their landlord or in arguing their case in front of the judge. 
---
AOM is also a valuable experience for our volunteer attorneys, providing them the opportunity to complete client intake, negotiate with opposing counsel, and argue before the court. 
If you are an attorney interested in volunteering for AOM, please contact Christine McMenamin, Senior Staff Attorney, at (716) 847-0662 ext. 348.
---
Forms for Tenants:
---
Housing Helpline (for Residents in Erie, Genesee, Orleans, Niagara and Wyoming Counties)
The Housing Helpline provides free legal advice and brief services over the phone on landlord/tenant matters to low-income residents living in Erie, Genesee, Orleans, Niagara and Wyoming Counties. If you have an eviction proceeding in the city of Buffalo, please see our Attorney of the Morning Program above. 
CALL US AT: 716-828-8460
Hours: The Helpline is open for intakes Monday* & Wednesday** between 12pm – 2pm. Call the Helpline during these hours and leave a detailed message about your housing question.
Individuals will be screened for income eligibility before getting an attorney call back within 48 hours.
* = WNY Law Center will be handling callbacks received on Mondays
**=ECBA Volunteer Lawyers Project, Center for Elder Law and Justice, and Legal Aid Bureau of Buffalo will handle voicemails received on Wednesdays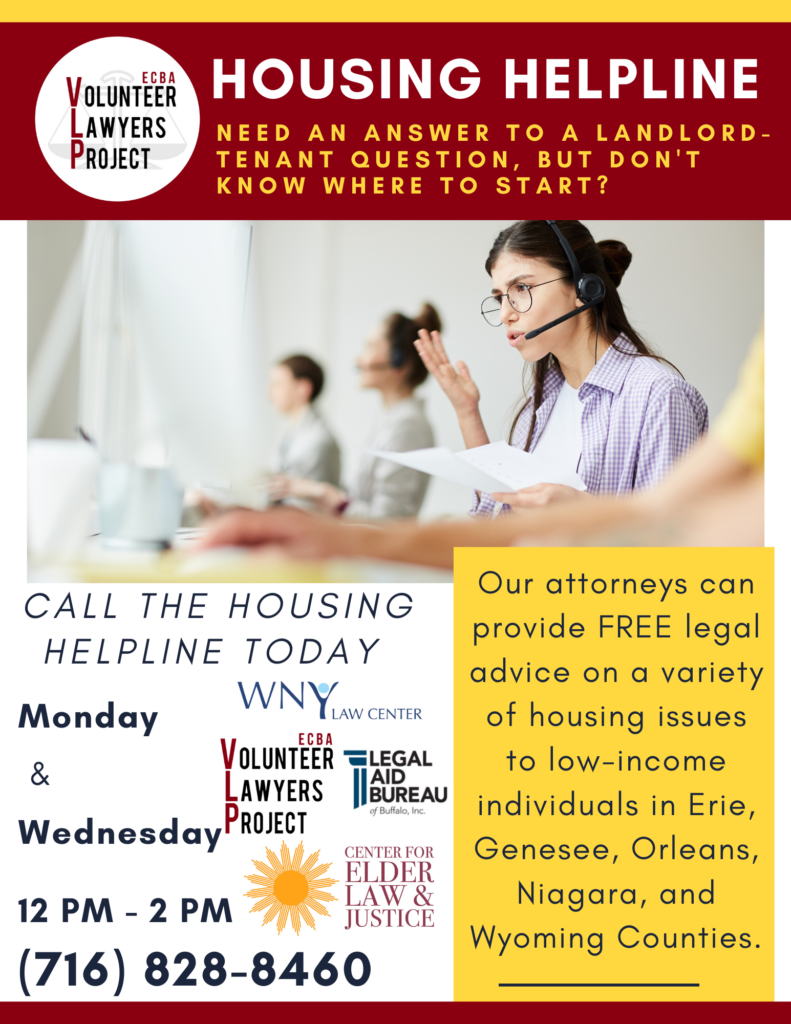 **Please note**
The legal advice provided through the Helpline is limited to the phone consultation. The attorney will not represent you in court and will not contact your landlord or other agencies.
Erie County Hub Court
Volunteer Lawyers Project represents low income tenants facing eviction in the Erie County Landlord Tenant HUB Court, which includes all town and villages in Erie County.
If you have a court date for HUB court, please call the attorney referral line at (844) 230-7376. Volunteer Lawyers Project, Neighborhood Legal Services, Legal Aid Bureau of Buffalo, Center for Elder Law and Justice and the Western New York Law Center all provide legal representation to tenants.
The website below was developed, with the help of VLP, to provide know your rights information to tenants facing eviction in New York State.
https://tenanthelpny.org/know-your-rights/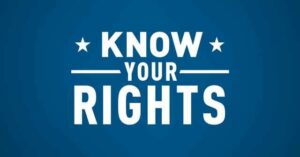 Other Resources
Helpful Videos about Your Rights as a Tenant
Know Your Rights – Rent Receipts
Know Your Rights – Pay or Quit
Evictions: Tips for Going to Court
My Landlord Wants Me To Leave: 5 Things to Know & Do
---