The Immigration Program at VLP
VLP's Immigration Program has served an array of the foreign-born people. VLP is proud to be part of several diverse projects:
The New York Immigrant Family Unity Program (NYIFUP) 
NYIFUP, funded by the Vera Institute of Justice, creates a "public defender" style program for people detained at Buffalo Federal Detention Facility in Batavia, NY. Our services are offered to all financially eligible detained people who do not otherwise have an attorney.
---
Domestic Violence & Human Trafficking 
The Immigration Program is also funded to represent non-citizen survivors of domestic violence and human trafficking through contracts with Neighborhood Legal Services and the International Institute of Buffalo.  We help these vulnerable clients obtain immigration status so they may begin independent safe lives here in Western New York.  We also serve as the non-profit attorney representative on the WNY Human Trafficking Task Force and Alliance along with federal, state, and local law enforcement agencies, federal and local prosecutors, and anti-trafficking social service providers.
---
.
Unaccompanied Children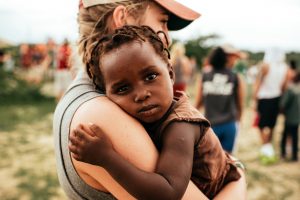 .
.
Through a contract with the Vera Institute of Justice, we represent non-citizen, unaccompanied minors, who are in foster care at the Catholic Family Center in Rochester. We work to obtain permanent residency for these children through special immigrant juvenile provisions of the law.
---
.
.
The National Qualified Representative Program (NQRP)
Through the NQRP program, VLP provides legal representation for detained individuals who are unrepresented by counsel and have been found to be incompetent to represent themselves in their immigration proceedings because of a serious mental disorder. This work is also funded by the Vera Institute of Justice.
---
.
.
Immigration Fellows
VLP's Immigration Program hosts two fellows funded to represent indigent immigrants.
One fellow is funded through the Immigrant Justice Corps (IJC).  IJC seeks to expand access to counsel by increasing the quantity of immigration lawyers and the quality of the immigration bar.  Each year, IJC recruits talented young lawyers for two year fellowships, trains them in immigration law, and pairs them with leading non-profit legal services providers.  Our current IJC fellow, Kerry Battenfeld, handles complex immigration matters, which we would not otherwise be able to handle due to capacity and funding restrictions.  For more information about the IJC fellowship program visit:  http://justicecorps.org/our-story/
VLP also hosts an Equal Justice Works AmeriCorps Legal Fellow through the New York State Family Security Project (NYSFSP), which is part of a broader state initiative known as the Liberty Defense Project.  NYSFSP focuses on fostering family security and community education through the delivery of high quality legal services to underserved or low-income immigrant families.  Equal Justice Works NYSFSP Fellows serve at select nonprofit legal organizations, like VLP, to provide high quality legal services including community outreach and education, legal screening, brief advice, full scope representation, and pro bono placement.  Our current Equal Justice Works NYSFSP fellow is law graduate Mostafa Soliman, who handles immigration matters with a focus on helping local families obtain or improve their immigration status.  For more information about the NYSFSP fellowships, please visit here.
---
 In addition, VLP recruits, trains, and mentors pro bono attorneys to represent both detained and non detained noncitizens in removal proceedings, focusing primarily on asylum cases and waivers for long-term permanent residents.
Our Immigration Program is not limited to only the above. For more information about our Immigration Program, please call our Immigration Line directly at (716) 847-0662 x 301
Click here for our Immigration Program Brochure